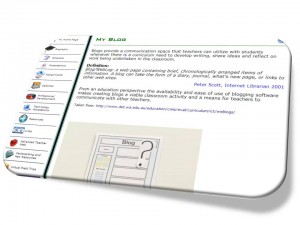 To add a Blog in Teacher Web:
 Under the My Applications tab, click on Maintain Blog.
Click on the Add New Blog link.
Enter in the Overall Blog Title and Posting Title.
Enter in your first thought, question or posting in the text area.
To password protect the Blog on the public site, enter in a password (optional). This field is limited to 20 characters.
Enter in a description of the Blog (optional). Comment Options:

Allow Comments – Select 'Yes' if you would like to allow people or students to comment on your Blog postings or 'No' if you do not.
Automatically Authorize Comments – To automatically authorize comments, select 'Yes'. If you select 'No' to not automatically authorize comments, you would have to approve them first before they're posted.
Email Comments – enter in an email address if you'd like to be notified via email of postings to the blog.
Show Comments – To display the posted comments, select 'Yes' or 'No' to not show comments.
Show User Email – Select 'Yes' to display the email address of the posted comment. If you do not want email addresses displayed of those who posted a comment on the front end, then select No.

Hit Next.
Enter in a Posting Title. You must add at least one posting in order for people to be able to post comments to your Blog.
Hit Save.
Images tab – to add an image to your blog, click on Maintain Blogs, then on the link under the Posts column. Click on the edit link next to the posting, then on the Images tab. Click Browse, select your image, hit Save.
Files tab – to add up to 3 files to your Blog for reference, click on the Files tab. Click on Browse, select your file, enter in a friendly file name and hit Save.