The following activity takes some VERY cool interactive websites and combines them with my absolute favorite web tool, Google Earth. At the bottom of this post is the KMZ file I created along with a printable copy of directions. Enjoy!!!
To access the Google Earth tour:
Students login to Active Directory and open Google Earth
Go to File>Open and navigate to the Student Shared Drive
Click on the KMZ file named A Thanksgiving Timeline (teachers need to save the KMZ file to the student shared drive prior to teaching the lesson.)

You will see the tour on the left side of the screen. There are 7 place marks total with information and links to online activities.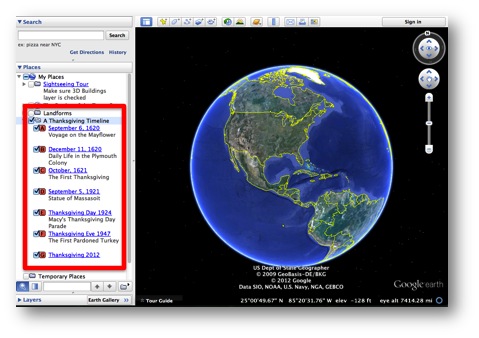 Double click on the red letter in the left pane to advance to each location. Double click on the red letter in the center to view the content within the placemark.
Advance through each placemark while completing each interactive until students reach the final destination where they describe family customs and traditions celebrated by their own families.

Students can document their learning by filling out a timeline graphic organizer or they can directly comment inside each placemark by right clicking and choosing properties. This will open the placemark for editing purposes. When complete, simply right click on the Thanksgiving Timeline folder located in the left panel and choose Save As.
The following links are possible extension activities:
A Thanksgiving Timeline KMZ (Google Earth File)
A Thanksgiving Timeline Directions