First of all, I have to say a BIG, GIANT THANK YOU to Laura Moore for letting me be a guest blogger and also, to Moby Max for the opportunity to try out the paid version of their website for free. What an honor on both accounts!
I started using Moby Max in my classroom earlier this school year and it has been absolutely wonderful. When we lost funding for the online reading program we had been using for years, I went on a search to find something similar. To my surprise, I was able to find something better! Moby Max not only incorporated a similar reading program, but my students were able to practice math, language arts, and writing as well. I started the year with the free version because I wanted to try it out. Then, I had the honor and privilege of trying out the paid subscription. The free version is great, but the paid version adds so many of the features that my students love. Below are a few of our favorite features from this website.
As a teacher, I love…
being able to track my students progress and activities completed.

the placement tests given before the students begin any assignment. This helped to place the students at their appropriate level.

that the students can send me messages through the website. I challenge the students to write me a message with a complete sentence. I have told my class that I will not answer a message unless I see a capital letter and a form of punctuation. Through the teacher login, I actually have the option of messaging the students through Moby Max, emailing them, or sending a mobile text message to the student or parent.

the daily tips. Every time I login, I get a helpful tip, which shows and explains another aspect of the website. It has helped me to easily navigate through the different features of the website. I have made a goal for myself to try and do something new every month and I feel like I haven't even touched half of this website's potential yet.

that my students can access their website at school and at home with no difficulties.
My students love…
the badges and awards. They are so proud of the badges they receive after completing the activities. They not only want to print them out, but they will send me messages through Moby Max telling me how many they have. 

*This can only be seen in the paid version.

the messaging system. They think it is so cool that they can ask me questions or tell me something and I will respond. Through the student login, the students only have the capability of messaging the teacher. They have asked me questions ranging from what year I was born to the possibility of calling them a different name. They can't wait for me to respond! Sometimes I have to remind them to complete their assignments before messaging me.

the games they get to play. When they complete activities, they earn time on their game time clock. The more activities they do, the more time they get to play games. (Actually as a teacher, I love this part too! It limits their gameplay, which is wonderful.) *This can only be seen in the paid version.

the jokes and comics. Every time they log in, a joke or comic pops up to start their session with something funny and uplifting.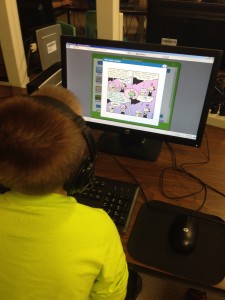 During our computer lab time, I walked around and asked a few of my students why they liked Moby Max. This is completely unscripted and unedited, which goes to show even more how much my students like this website. 
When I first logged into this website and started using it, I knew I needed to get my teammates to sign up with me as well. After that, I started telling other teachers at my school to try it out. I would tell them that whether they get the paid version or purchase the subscription, each one of them needed to try it. My team, my students, and I have loved this program all year and will continue using it. It has definitely been worth the time, effort, and money. Even though I was given a chance to try the paid version, I say it is worth the money because I know I will be purchasing this subscription next year for my class. This website continues to go above and beyond my expectations and I love that. Moby Max is a great tool to have in your classroom for small group, individualized instruction, class discussions and assessments.
 My next venture is to try the Moby Max tablet! Now that just sounds too cool not to try!
Heather is a 2nd grade teacher at Northwood Elementary in San Antonio, Tx. Click here to access her classroom blog. Make sure to check out the student blogs located on the right. Her students would love for you to leave comments in support of their blogging efforts.